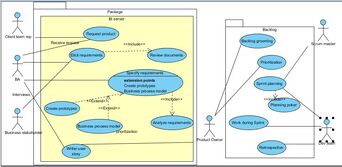 User Requirements
are documents that detail how a system, tool or process should behave to meet user needs. User can be human or machines active within a process or system.
User requirements documents act as a link between the Project Charter which defines the project vision and project design, development, and deployment. User requirements allow Business Analysts to validate needs with end-users so that they can be fully understood by the development team before work begins.
User requirements are created to define object relationships and behavior, and textual and graphical tools which can do this are in scope. Some common artifacts used are use cases, activity diagrams, event-response tables, and business process models.
Methodology
Edit
A user requirements document is the outcome of elicitation of business requirements. Interviews with end-users, workshops, and document reviews are all methods used to elicit the requirements and understand the needs of a user or a group of users. Sometimes users will have conflicting views on what is needed, and in such a case, it is the responsibility of the Business Analyst to understand the context and the different perspectives well enough so that she can help to bring consensus. Depending on the maturity level of an organization's business analysis structure, the Business Analyst may simply have to document already defined user needs or she may be required to deep-dive into a complex problem and clearly define user needs based on vague, conflicting, and missing information.
Document overview

Document version procedure

Project Background

​Stakeholders
References
Business need or problem statement

​Project goals

​Vision statement
In scope
Out of scope

User requirements

prioritization of requirements
User interface definition

Business Rules

Impact on Business processes
Managing impact and change

External and Internal Constrains
People, systems, and processes affected

User profiles
Use cases and Use case diagrams
Impact policies and support
Escalation policies

User manuals, and training
Project collateral
Glossary of terms
Ad blocker interference detected!
Wikia is a free-to-use site that makes money from advertising. We have a modified experience for viewers using ad blockers

Wikia is not accessible if you've made further modifications. Remove the custom ad blocker rule(s) and the page will load as expected.