As the name suggests the Business Analysts role is to analyse a business, but these days it is much more than that. Business analysts are usually found working on projects, and on projects business analysts are the Boundary spanners [1] of the project world.
Business analysts are communicators, facilitators, subject matter experts, designers, trainers, planners, managers and more.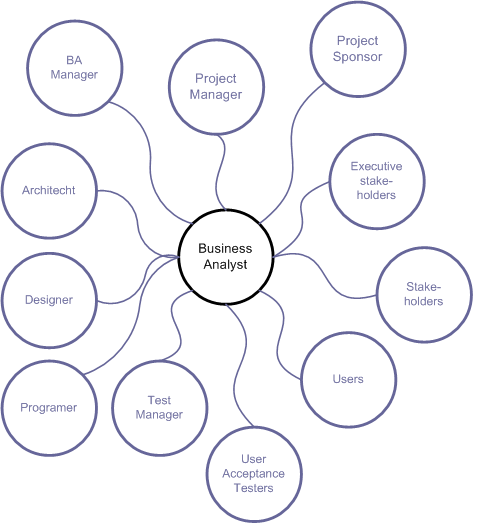 The diagram above shows some typical relationships that a business analyst has in the course of working on a project.
Business analysts must have an understanding of the business environment, or domain, that the project is servicing. Examples include telecommunications, banking, manufacturing, education and utilities. Anywhere there is a complex corporate environment there are likely to be business analysts who are experts on how the business runs and how it got there.
Many business analysts have evolved into the role from programming or engineering, although more frequently business analysts are coming from operational roles, where people start as subject matter experts on projects and then eventually become full time project workers.
These business-side business analyst usually come with a commercial and/or business process focus. The key thing they bring however is the ability to think conceptually and to take a systematic approach to solving problems.
A scan of job boards shows the following to be common skill requirements for business analysts. Success in the field no doubt lies with cultivating these skills.
I surveyed about 80 business analyst roles advertised on job websites in three continents and found the word share dedicated to each skill set was as follows. The lack of focus on business domains represents the cross industry skills that BAs have, and the trend on the past for BAs to come from a technical background. This will no doubt change over years as BAs develop specialisations in industries (e.g. superannuation, utilities, etc.)
Furthermore there is not much focus on change management, or rolling out changes. Again, this is a relatively new area of focus and will probably increase it's share in the near future.